131st Legislature Bill Tracker
Maine legislators will consider a number of bills during the 131st Legislature that involve issues related to the Wabanaki Nations. Our Bill Tracker has details on many of those bills and actions you can take to stand with the Wabanaki. Many bills we'll follow haven't been released yet, so check back often for updates!
Scroll down to see all of the bills added to the tracker so far or use the navigation sections below to jump to new bills in the tracker, bills with an upcoming public hearing (🎙️) or bills with an upcoming vote (⚠️).
Learn how to submit testimony, contact your legislators, write an LTE and more in our Legislative Toolkit.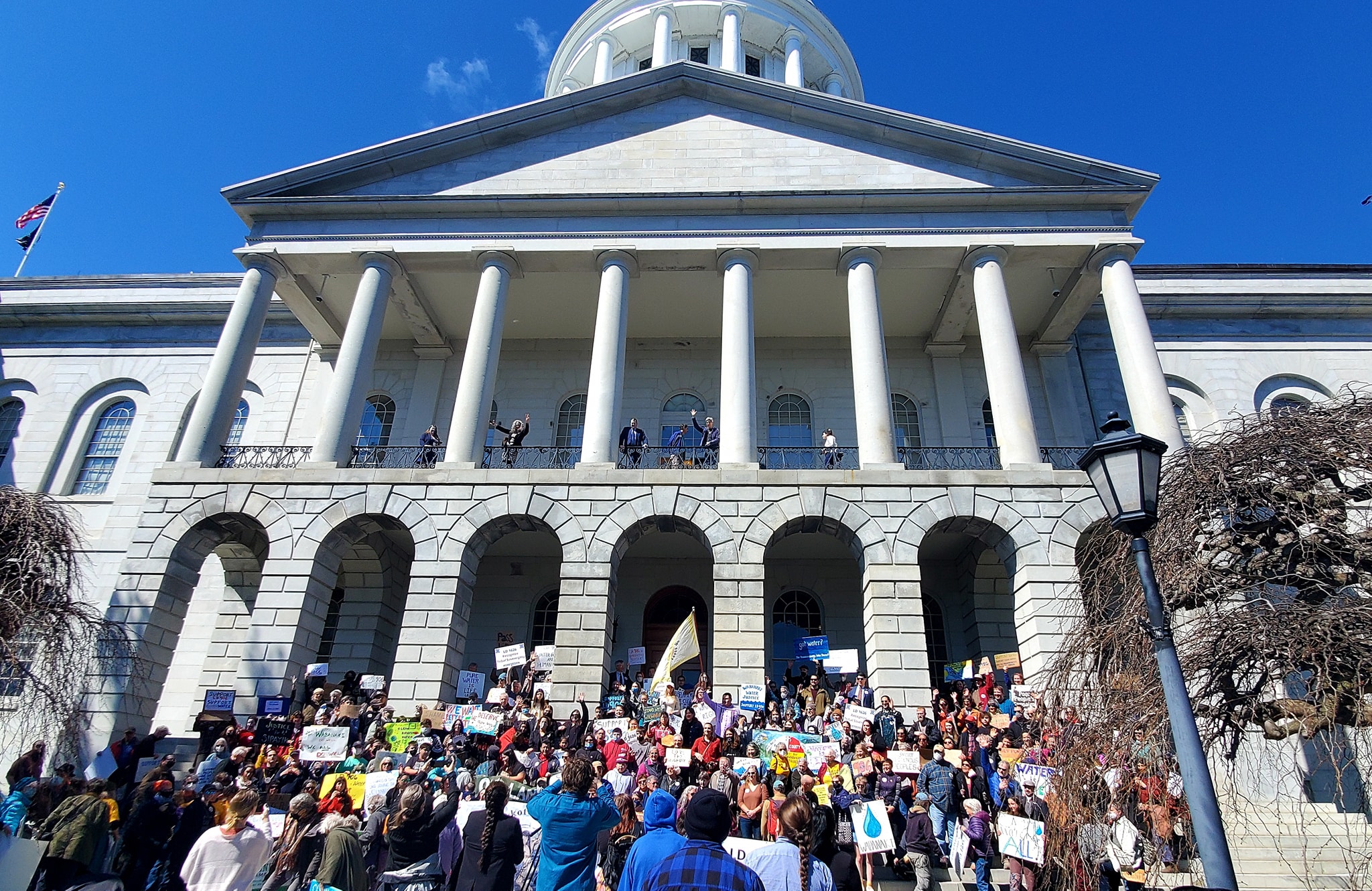 Wabanaki citizens and allies rallied at the Maine State House in April 2022.
Bills with upcoming hearings
None of the bills we are currently tracking have public hearings this week. 
Find your legislators
Not sure who your legislators are? Find a list of all your state and federal elected officials HERE. Or visit the Legislature website to find a full list of all Maine Senators and Maine Representatives.
Contact your legislators
Emails and phone calls from constituents are particularly persuasive. Use the link above to find your legislators and their contact info. Call or email them and let them know why you support or oppose a specific piece of legislation. Once you've submitted your testimony for a bill (see below), send your legislators a copy!
On the day of a bill vote, call the 1-800 numbers listed below and leave messages with your name and town, your legislators' names, the bill number you're calling about, and how you'd like them to vote. Messages are transcribed and delivered to legislators' desks throughout the day.
Maine House:
1-800-423-2900
Maine Senate:
1-800-423-6900
TTY: Use Maine Relay 711
Submit public testimony
All bills and state agency commissioner nominees are assigned to one of 19 standing joint committees and receive a public hearing. Members of the public can offer testimony in support or opposition to a bill in person or via Zoom during the public hearing or in writing. If you want to testify during the hearing via Zoom, you must register at least 30 minutes before the hearing begins. You do not need to register to testify in person.
To register for Zoom or to submit your testimony in writing, follow these steps:
Visit the legislative testimony page HERE.
Select Public hearing
Select the committee that is hearing the bill
Select the date and time of the hearing
Select the appropriate bill number
To register for Zoom, select "I would like to testify electronically over Zoom."
To submit written testimony, upload your file or enter the testimony in the field.
If you plan to testify in person, you are asked to bring 20 copies of your testimony to distribute to committee members.
You can find committee assignments and public hearing dates and times on the bill's website. While you can submit testimony at any time and it will be shared with committee members and become part of the public record, only testimony submitted online by midnight on the day of the bill's public hearing will be included on the bill's web page.
People with special needs who require accommodations to participate in a hearing should contact the Legislative Information Office as soon as possible by phone (207) 287-1692 or email lio@legislature.maine.gov.
Read our legislative testimony
The Wabanaki Alliance often submits legislative testimony in support of or opposition to bills before the Maine Legislature and the U.S. Congress. Read our testimony on our Legislative Testimony page.
Write a letter to the editor
Once you've written your testimony, turn it into a letter to the editor! Find tips on writing letters and a list of newspaper contact info in our LTE Guide.
Other calls to action
Find actions on Wabanaki Alliance priority federal and state legislation and other issues on our Take Action page.