Take Action to Stand With Wabanaki
The Wabanaki Alliance advocates for federal and state legislation and policies that improve the lives of tribal citizens and our neighbors around the state, protect and preserve our environment, and honor Tribal history and culture. We partner with a broad coalition of racial and social justice groups, faith-based organizations, and businesses on actions and events, some of which you can find below. Read on to learn more about how you can Stand With Wabanaki.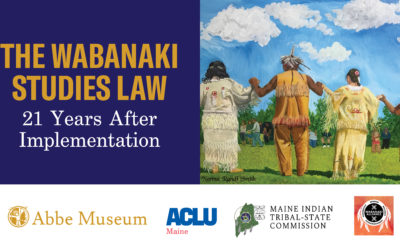 An online panel discussion set for Indigenous Peoples' Day, October 10, will explore the implementation of the 2001 Wabanaki Studies Law and include discussion of a new report examining the law's effectiveness. The event is hosted by the Abbe Museum, ACLU of Maine, Maine Indian Tribal-State Commission and Wabanaki Alliance.
read more