The Wabanaki Alliance advocates for legislation and policies that improve the lives of Wabanaki citizens and our neighbors around the state, protect and preserve our environment, and honor tribal history and culture. Find our current calls to action below and learn more about how you can Stand With Wabanaki.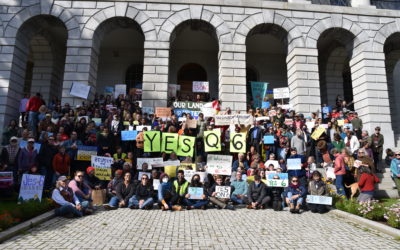 A rally and march in support of Question 6 that drew more than 200 Wabanaki citizens, Wabanaki Alliance Coalition members, state leaders and other allies garnered state and national media attention.
read more
Read about Tribal Sovereignty
Letters to the Editor
Find tips for writing an effective letter to the editor and links to newspaper contact info in our LTE Guide. 
Reports
Read studies and reports on Wabanaki issues from state and national organizations on our Reports Page.
Scorecards
See how your state legislators ranked on our priority issues during the last session in our Legislative Scorecard.